Sweden Republicans announce 2019 slate of candidates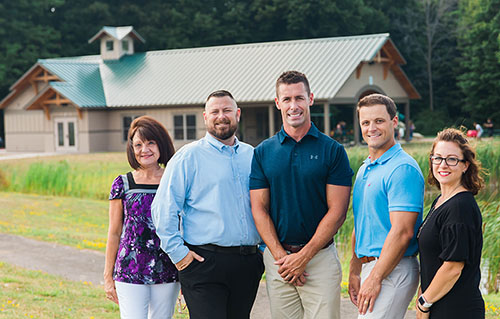 The Sweden Republican Committee has announced its 2019 slate: Supervisor Kevin G. Johnson is seeking his second two-year term. Rhonda Humby and Randy Hoke are joining Johnson as Town Board candidates making their first run for office. Rounding out the ticket are incumbent Highway Superintendent Brian Ingraham and incumbent Receiver of Taxes Kathleen Bahr-Seever... Read more...
Please watch the first 10 minutes of this Town Board meeting
The Town had carefully studied operations at the Senior Center since 2008 before making the difficult decision to move senior programming to the Community Center and lease the building. It was the best solution for seniors and taxpayers alike. Lori Skoog agitated to keep the senior center open and promised seniors that it would remain status quo. She ran her 2015 campaign for Town Board on this promise. This summer, she voted to move senior programming to the Community and to lease the Senior Center to Lifetime Assistance as originally planned in 2014. While going forward seniors and taxpayers will be well-served, the 3 year delay cost the Sweden taxpayers more than $300,000. We do not need more of this type of delayed, costly decision making. We need less of it. On November 7, voter for smart, responsible leadership in Town Government. Vote for Kevin Johnson, Bob Muesebeck, Patty Hayles, Karen Sweeting and Tony Perry.
Supporting our military and emergency responders
There are three community events coming up to honor our military and emergency responders. The Sweden Republican Committee encourages residents to participate as a way to thank our brave men and women in uniform.
First up is Operation Patriot Ride on Saturday, September 9. The 300+ motorcycle ride is expected to arrive in Brockport at about 11:30 am. The ride will be led by Sheriff Patrick O'Flynn and retired Captain Neil Flood. The best viewing will be near the Capen Hose Fire House and along Main Street to the north.
The Brockport Fire District is participating and will have its apparatus out to salute the riders.
On September 11, the Brockport Volunteer Firefighters Association will conduct its annual vigil at the 9/11 Monument in front of the Capen Hose. Opening Ceremony is at 8:30 am with the tolling of the bells at 8:47 am. The closing ceremony begins at 6:30 pm. A uniformed honor guard is stationed at the monument all day.
On September 23, McCracken Farms will host Pork for Patriots with all proceeds going to Blue Star Mothers. Gates open at 4 pm; the Pig Roast is from 5-7 pm. The event is sponsored by McCracken Farms and 58 Main Restaurant. Music from 6-9 pm by Shotgunn Wedding and The Kid Kurry Band. Fireworks at 9 pm by Young Explosives. Tickets are available at Wegmans for $25; $30 at the gate. For more information go to porkforpatriots.com or call 395-0505.
Deputy Supervisor Bob Muesebeck is a Vietnam Veteran and President of the Brockport Area Vets Club. We have several veterans and career and volunteer emergency responders on our Sweden Republican Committee. Justice Candidate Tony Perry is a retired police officer. Brockport Fire District Chairman Charlie Sanford is a Vietnam Veteran. We salute all of our committee members and community members who have served our country and our community. Please join us in thanking and honoring them in September.
Successful Petition Campaign - The Sweden Republican Committee conducted a tremendously successful petition campaign gathering more than 700 signatures to put the following candidates on the Republican, Conservative and Independence lines for the November 7 election: Kevin Johnson, Supervisor; Robert Muesebeck, Councilperson; Patricia Hayles, Councilperson; Anthony Perry, Justice; and Karen Sweeting, Clerk. The committee celebrated at its July meeting and sends thanks to everyone who signed a petition and all the committee members who passed petitions!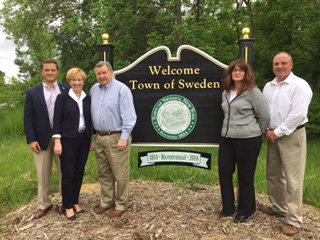 From left to right: Kevin Johnson, Patricia Hayles, Robert Muesebeck, Karen Sweeting and Anthony Perry

The 2017 Sweden Republican Committee Slate of Candidates - is pleased to have received the endorsement of the Monroe County Young Republicans. It is an honor to have the support of the youngest voters in our community – these young Republicans will someday be leading our community in a variety of ways – as elected officials themselves and as leaders in civic, fraternal and charitable organizations. We thank them for their support and encourage them to continuing engaging in the electoral process.
Spring Fling a tremendous success! - The Sweden Republican Committee hosted a well-attended Spring Fling on Wednesday, May 24. More than a hundred committee members, candidates, community and family members welcomed Sweden's 2017 Slate of Candidates – Kevin Johnson, Supervisor; Bob Muesebeck, Councilperson; Patricia Hayles, Councilperson; Anthony Perry, Justice; and Karen Sweeting, Town Clerk.
Notable attendees included Sheriff Patrick O'Flynn, Assemblyman Stephen Hawley, the Honorable John Gallagher, the Honorable Joseph Nesser, Gates Supervisor Mark Assini, County Legislators Frank Alkofer, Mike Zale and Mike Rockow. Clarkson Councilpersons Pat Didas, Christa Filipowicz, Jackie Smith and Allan Hoy also attended.
Sweden Committee Leader Wayne Zyra thanked current Supervisor Rob Carges for 24 years of service on the Sweden Town Board and welcomed past Supervisor Buddy Lester as well as three former mayors of the Village of Brockport – Connie Castaneda, Mary Ann Thorpe and Frank Sachelli. Current Deputy Mayor Bill Andrews and Sweden Conservative Committee Chairman Rhett King were also recognized.
Many thanks to musician Steve Lauth and event organizers – the Sharpe and Zyra families. A special thanks to the Brockport Fireman's Exempt for the use of its facility. Finally, to the all the event sponsors – we appreciate your support!
Sweden Republicans attended the Memorial Day Service
at the Brockport Area Vets Club on May 27, 2017. Deputy Supervisor Robert Muesebeck is president of the Vets Club and a Vietnam Veteran. Patricia Hayles and Tony Perry stand with former Sweden Supervisor Patricia Connors to honor those who sacrificed all for our country.
Sweden Republicans Clean-Up Project - Sweden Republican Committee members recently led a clean-up project on the north side of Route 31, west of Owens Road and east of Route 19. The Committee adopted the stretch of road through the Adopt-a-Highway Program several years ago.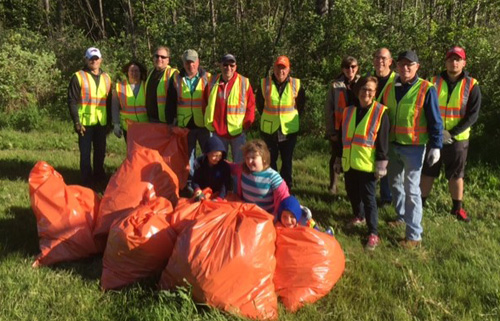 Sweden Republicans help mark Veterans' graves - On May 23, members of the Sweden Republican Committee helped the Brockport Veterans Club place flags at veterans' graves at Lakeview Cemetery. Veterans from all US wars and conflicts have been interred at Lakeview, as well as many community members who served the country during peace time. The Republican Committee applauds the efforts of local veterans, veterans' families, and the Town of Sweden in honoring the service and sacrifice of these men and women.
Fundraiser Event - Sweden Republicans hosted a fundraiser for their Responsible Leadership campaign. Candidates Rob Carges, Peter Sharpe, Don Roberts, Brian Ingraham and Kathy Bahr-Seever were joined by Sweden residents and supporters as well as county and state representatives: Cheryl Dinolfo, Mike Zale, Rob Ortt, Bill Taylor and Jim Vazzana. Thank you everyone for a great evening and a positive, responsible campaign!